Phytotrons
Phytotrons are useful tools for growing plants under strict controlled climatic conditions. With the support of light expert Landlab has upgraded conventional phytotrones by introducing LED light with high and very homogeneus PAR ( Photosynthetic active radiation)
---
Ryzotrones
Ryzotrones may help in understanding the roots architecture, their growth pattern and their depth.
The Landlab's technicians has built several types of ryzotrones where the plants root can reach the depth of 1,00, and can be monitored during the growth, by means of DIA with the use of a specific box, and then easily assessed at the end of the study by removing the glasses.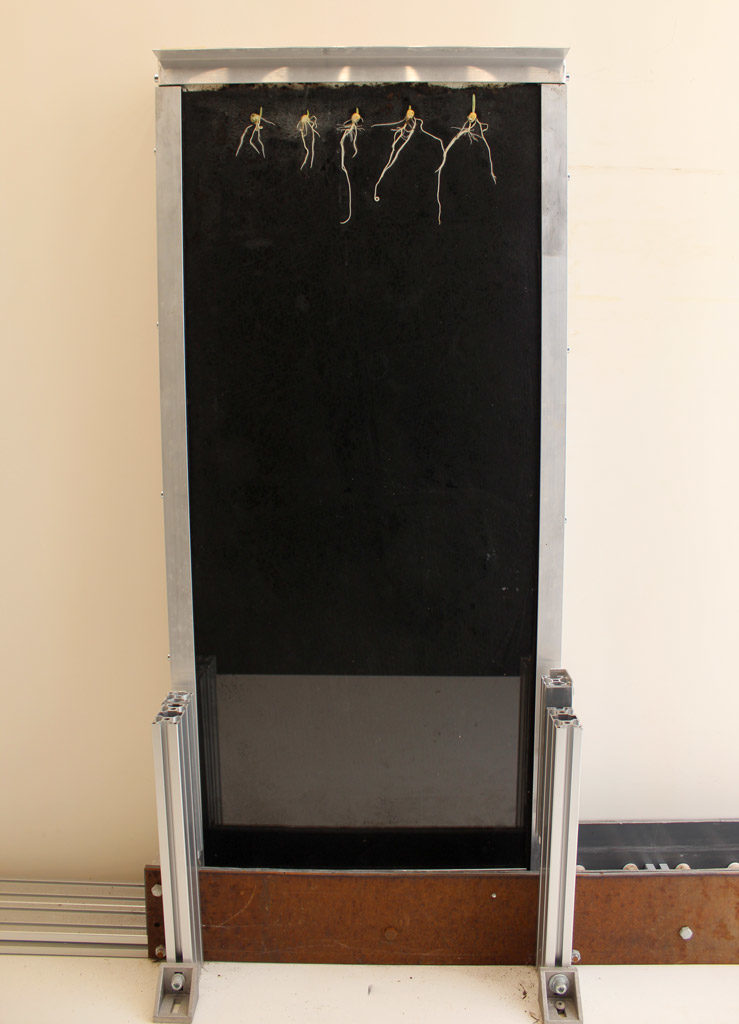 Rainout system
Rain is probably the most unpredictable climatic factor and water deficiency the most studied abiotic stress. However there is a lack of tools for studying the crops behaviour, in native soils, under critical water situations such as drought periods, more or less prolongued, excess of rain followed by drought.
Clearly conscius that every experimental tool may have positive and negative aspects, Landlab has therefore built several rain-out systems where the rain simulation is under a constant and strict control, being the rain fully avoided. Landlab has now in place 2.500 sqm of rain-out, with fully automatized boom irrigation systems. In these rainout every rain condition can be simulated and, as well as from this year, also different and split nutrition dose rates and types.
Timelapse system
At the end of a research program is often very useful to check and show how the different treatments (e.g. special fertilizers) are inducing superior or better growth compared to the benchmarks.
Time lapse boxes with LED light with accurate PAR, light for images capturing, day and night simulation, have been developed and are used to support the clients communication and marketing.
Flexi spray
The number of studies demanding high accuracy in the application of products to the crop leaves is growing: very specific quantity of liquid per sq meter. Since in the market there aren't any tools for this purpose.
Landlab has studied and built in-house two types of the equipment:
1) for application of products to pots, from 20 ml/sqm up to 100 and the accuracy of +/- 1 ml
2) for the application in field, on plots, with the size of max 3,0 x 1,5 m, with a moving arm at very constant speed simulating the real conditions.