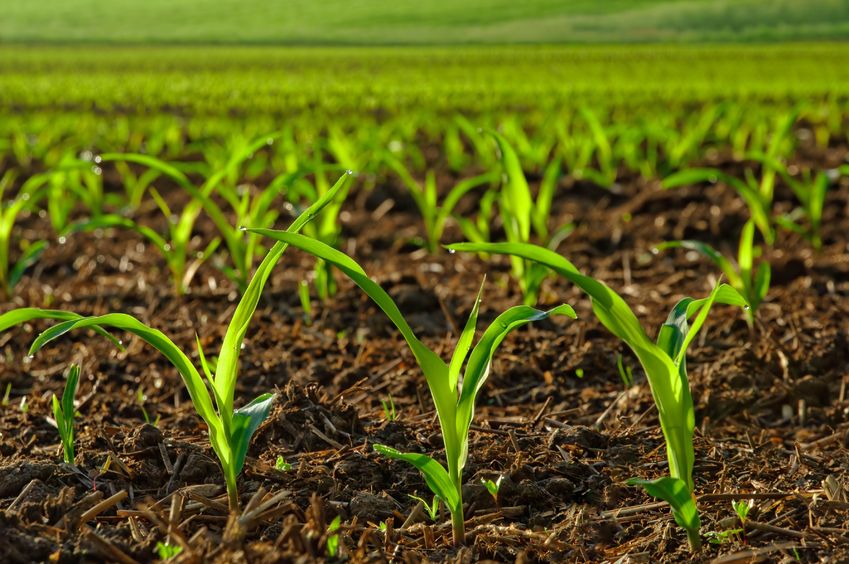 Rich of organic matter, frequently coming from industries leftovers, these "green" fertilizers have a significant nutritional role in the modern agriculture. They behave as Slow Release Fertilizers (SRF's) and this key feature is relevant to reduce nutrients wastes.
They also often improve the soil structure, the Water Holding Capacity (WHC), the microbiota and substantially reduce the Nitrate leaching.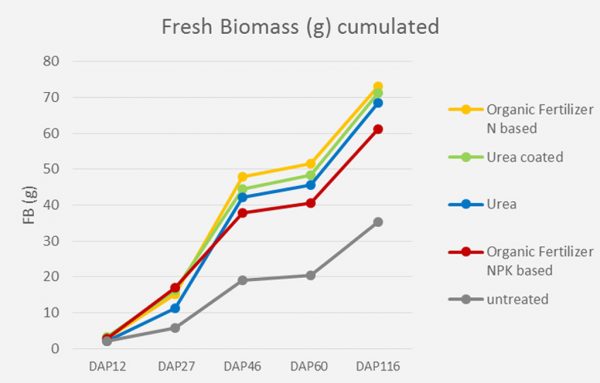 Landlab is conducting researches on behalf of several partners in order to characterize various organic fertilizers. The studies has the aim to qualify these leftovers, evaluate the impact on the plants growth and basically test their efficacy and efficiency.
The aim of this research was to verify the nutritional efficacy of Organic fertilizers using a perennial grass as model plant, by the comparison versus other standards.
The graph shows the trends of the Cumulated Fresh Biomass of turf treated with several fertilizers. The FB is obtained as a sum of the FB of each cut (mowing at 5 cm) carried out at several Days After Planting (DAP).
| ENTRY | Volume of water leached | | % |
| --- | --- | --- | --- |
| Organic fertilizer NPK based | 1351 | a | 94,4 |
| Organic fertilizer N based | 1372 | ab | 95,9 |
| Urea | 1377 | ab | 96,3 |
| Urea coated | 1388 | ab | 97,00 |
| untreated | 1430 | b | 100,00 |
This second part of the experiment concerns the leaching events occurred at DAP33. The water applied for the leaching was the same for each pot but the Total Volume collected, differently from what was expected, shows significant differences already at the first leaching event. The organic fertilizers do not disturb the soil life or even are able to boost a strong microbial growth and activity leading to a higher WHC (Water Holding Capacity) in the first 4 to 6 weeks after the application.
The amount of NO3- leached is shown below.
Interestingly the Organic fertilizer NPK based releases less N than the Untreated however this treatments is producing similar FB in comparison to the other entries and significantly more than the Untreated one.
| PRODUCT | NO3 (mgl) | | % |
| --- | --- | --- | --- |
| Organic fertilizer NPK based | 35 | a | 75,8 |
| untreated | 46 | ab | 100,00 |
| Urea coated | 55 | ab | 121,4 |
| Urea | 76 | b | 165,9 |
| Organic fertilizer N based | 76 | b | 166,5 |